Demonstration Video On Youtube
I. Introduction
Mushrooms grow on compost. The compost is produced at specialized companies. From the moment the raw materials are mixed, up to delivery of the compost to the production companies, the process takes four to six weeks and this depends on the raw materials and the system used at the composting company.
In process of mushroom growing, the compost is required to fill into the bag, such job is always done manually previously. But by using of automatic bagging machine, we can increase the production efficiency and reduse manual cost, to acheive industrial mushroom cultivation. The whole bagging process is capable finished by machine automatically, including compost loading, cultivation bag making, compost filling, compost pressing, cultivation bag sealing and cultivation bag conveying, the capacity can upto 1200 bags per hour.
Start the whole production process only by pressing one button. Easy to operate, automatically reminding, output counting and precision collaboration. Fast forming, the whole production process, including bag making, bagging, tying, hole punching, gluing, bag delivery, can be accomplished at a dash and it takes only 3 seconds to produce one bag. Due to 11 national patents and core technology, this machine has a stable performance. The production process is fully intelligentized. Detail design without any hidden trouble. Ten workers' labor can be saved by using one machine.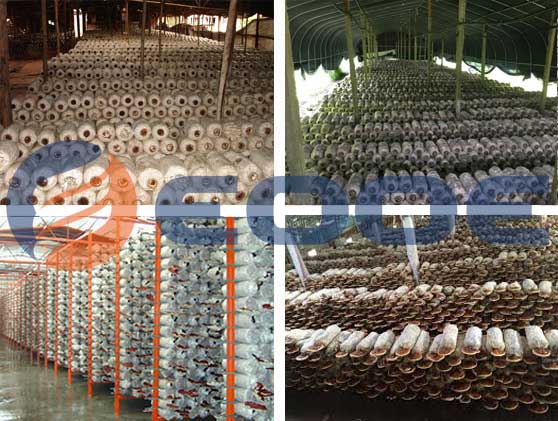 II. Specification
| | |
| --- | --- |
| Cultivation Bag Length | 170mm – 180mm |
| Cultivation Bag Width | 185mm – 195mm |
| Cultivation Bag Weight | 1.1KG – 1.5KG/Bag |
| Layer of Bag | Single Layer |
| Bagging Capacity | 1300 Bags/Hour |
| Vent Capping | Automatic |
| Power Rate | 23KW |
| Machine Weight | 3800 Kg |
Oyster mushroom and ganoderma cultivation bag usually attach with a vent cap.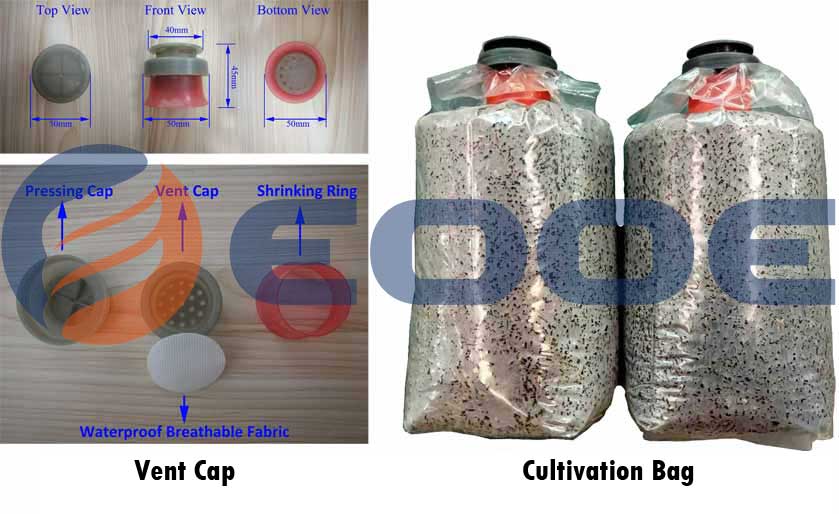 III. Components List
| | |
| --- | --- |
| Three Phase Motor | SIEMENS |
| Frequency Converter | Schnider |
| PLC | OMRON |
| Pneumatic Cylinder | AirTAC |
| Liner Guideway | HIWIN |
| Bearing | NSK |
| Geared Motor | LM |
| Servo Motor | INVT |
IV. Reference